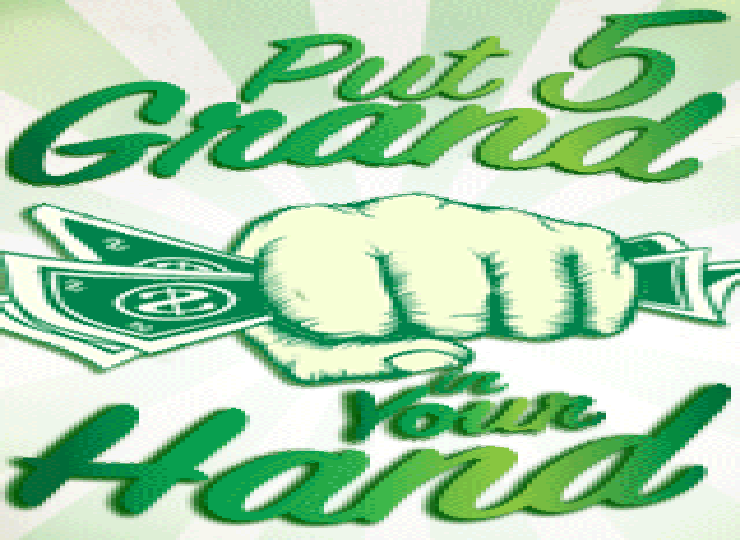 RadioWorks wants to put some serious CHA-CHING in your hand! Be listening for your chance to win 5 Grand in Hand! It's your chance to win $5,000 worth of certificates from our participating sponsors.

The winner will pick 5-$1,000 certificates from all our participating sponsors, and YOU get to pick which ones...and the second prize winner will get to pick 5-$100 certificates.

So how do you win it?

*Be listening each weekday morning at 7:10am to see where you can stop in and sign up. We'll have a different sign up location each weekday.
*Stop in and get your name in the box. We'll draw for a finalist from that location the following weekday at 7:10am.
*We'll gather all the finalists for the grand prize drawing - where we'll draw for the winner and the second prize winner. All qualifiers must be present to win....bring legal ID....Good Luck!! All qualifiers must be at Leading Edge Equipment Saturday, Aug. 27th 9-10am and the drawing will be held at 10am.....

No purchase necessary, sign up once per location, and only one finalist per family per household. Must be 18 or older. Sponsor employees are NOT eligible for their own drawings.

Be listening each weekday to see if you're a finalist and see where to sign up for 5 Grand in Hand ONLY from your RadioWorks Stations!
CONGRATULATIONS TO OUR GRAND PRIZE WINNER....EDWARD GEFROH OF DL...ED WINS 5-$1,000 CERTIFICATES OF HIS CHOICE FROM OUR PARTICIPATING SPONSORS AND TO THE SECOND PRIZE WINNER...JESS HOFFARTH OF DL...JESS WINS 5-$100 CERTIFICATES.....THANK YOU TO ALL WHO PARTICIPATED AND TO ALL OUR SPONSORS.....
---
| | | |
| --- | --- | --- |
| Date | Location | Finalist |
| 7/5 | Lamotte's Paint and Glass Supply | Kathy Homan - DL |
| 7/6 | Leevers Foods | Ray Darling-Leeds |
| 7/7 | Lakeside Meats | Annette Felche-DL |
| 7/8 | County Bottle Shop | Matt Hodgins-DL |
| 7/11 | Monsterlawn | Sandy Teubner-Cando |
| 7/12 | Lakes Liquor | Nicole Nord-DL |
| 7/13 | Cenex West | Jennifer Nash-DL |
| 7/14 | Liquor Locker | Arnold Beaver-Rolette |
| 7/15 | Leons Building Center | Cindy Schiele-DL |
| 7/18 | Ironhide | Jeff Trana-DL |
| 7/19 | Mr & Mrs J's | Robert Kraft-DL |
| 7/20 | Thirsty's | Jess Hoffarth-DL |
| 7/21 | Lakes Liquor | Cheryl Klett-DL |
| 7/22 | Woodland Marine | Steven Buchmeier-Crary |
| 7/25 | Cenex One Stop | Rachel Kraft-DL |
| 7/26 | Ritter Huesgen Jewelers | Lori Stubbe-DL |
| 7/27 | Cenex Travel Plaza | Tracy Bertsch-DL |
| 7/28 | Gerrells Sports Center | Clint Oehlke-DL |
| 7/29 | NSCCU in Maddock | Lola Brown-Maddock |
| 8/1 | Wahl Family Auto | Larry Ohma-Hampden |
| 8/2 | Slumberland Furniture | Linda Jorgenson-Rugby |
| 8/3 | Pizza Ranch | Alex Beecroft-DL |
| 8/4 | Spirit Lake Casino | Shawna Geiger-Cando |
| 8/5 | Lake Toyota | Crystal Holter-Minn |
| 8/8 | Creative Impressions | Ed Gefroh-DL |
| 8/9 | Cenex-McVille | Traci Sand-Pekin |
| 8/10 | Cenex-Lakota | Frank Kranitsky-Lakota |
| 8/11 | NDTC | Steve Loehr-DL |
| 8/12 | Timbers Lumber | Joan Ross-Webster |
| 8/15 | St Michel Furniture | Phylis Bertsch-DL |
| 8/16 | Leading Edge | Barbara Freund-Brocket |
| 8/17 | Service Tire | Kim Sievert-DL |
| 8/18 | Bessette Motors | Robert Smith-Carrington |
| 8/19 | Lake Chevy | Ruth McIntyre-Edmore |
| 8/22 | D L Ford Lincoln | Kristi Serumgard-DL |
| 8/23 | Minnie H Cleaning Center | Bryan Skjerva-DL |
| 8/24 | Metro Plains Management | Elmer Nadeau-DL |
| 8/25 | Holiday Mall | Vicki Anderson-DL |
| 8/26 | NSCCU in DL | Randy Kuchar-Edmore |